How not to do Teams (the Festive edition)
After spending a few months experimenting and finding our feet, we're all aboard the Teams train, having moved most of our meetings, group conversations and individual IMs over from Skype.


That said, it took a little while to get to grips with the various quirks that Teams has, and some of them can still trip us up. Here's our festive example of 'how not to do Teams', based on one of our (okay, my) early mistakes.
The screenshot features various Teams-related errors.


Error no.1: The pesky 'Reply' button.
I failed to notice the 'Reply' button underneath Heather's post. One crucial tip for Teams is: Use existing threads when possible – this will avoid creating split or duplicated conversations, which can clog up the channel. For newbies, or users who are in a rush to get their point across, the 'Reply' button is easily missed, but once you know it's there it does become easier to hit reply and keep the threaded chat going.
Error no.2: Multiple related messages (and still not using the 'Reply' button).
As you can see I wrote three messages directly following each other, and they're all related in topic. In Skype IM, this would not be out of place, but in Teams I should have posted my response all together. Or, if the addition here was an after-thought, I could have hit 'Reply' and added it to my previous points – which (in an ideal world) would have been in a direct 'Reply' to Heather (see Error no.1).
Error no.3 No titles on anything
If for some reason my post had not been a direct reply, which should have been tethered to the post I was responding to, it should have had a title. Titles make the topic clear to other Channel members, and enables users to identify pertinent topics when scrolling through posts.
Error no.4: no @mentions – a multitude of errors
As my post does not use the 'Reply' button correctly, it's less likely that Heather will see my response, unless she checks back on this Team. The only notification she will receive for the messages above, is that the channel 'Content' will be bolded to indicate that there has been activity in this channel, Heather has no way of knowing that this activity is in direct response to her post – good one Emma.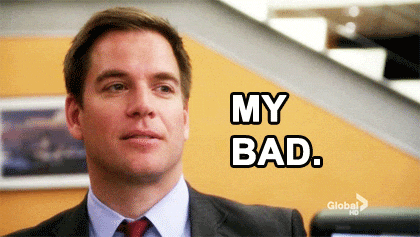 Good practice/ bad practice
As you can also see, Heather mentions my name '@Emma', so that I will be 'tagged' in her post. This means that I will get a notification about this mention, and will be prompted to search it out. You can also see that I have mentioned her name in my third post, but have failed to tag her by using the '@' symbol – so she will not be notified that there might be an action/ conversation point here that references her.
Sort-of Error no.5: The 'Files' Tab
This isn't an error per se, but indicates what good practice would have looked like. Instead of the scenario above, what I could have done is uploaded my 'Christmas Party Ideas' file (neatly prepared earlier) to the Channel, replied directly to Heather by hitting 'reply' – informing her that she can find all my ideas in a list, ranked in order of greatness in the Files section of the channel. Boom! Maybe next time…
The magical delete button
The final Teams lesson was learnt the hard way: the 'delete' option. Our Team did not have this enabled, and assumed there was no way to wipe away our mistakes from view, but there is, and here's how!
Important note: you must be a group owner to do this, if you are not, it's up to them whether they want you to learn about Teams the hard way, or the easy way.
First, click on the '…' next to the Channel.
Select 'Manage Team'.
Go into 'Settings', then 'Member Permissions' and you will see the following:

Select the deleting/editing settings you would like. Second Important Note: This is a soft delete, if you need to restore a post you can, simply click 'Undo'.


These errors are bona fide, and have been recreated for the purposes of this blog. Valuable lessons have been learnt.