Emoji reactions: is Teams turning into Facebook?
As you can see from our discovery below, Teams is bringing emoji reactions to messages. While you may not have it just yet, the functionality is coming to a platform near you very soon.
The virtues of the simple 'Like'
Personally, I liked the 'like' option. It had a clear dual purpose. On the one hand, it could be used for the appreciation of someone's message, point or work – whether this was applied on mass or in a private chat.
On the other hand, it was also a great way to show quick acknowledgment that a message has been received and noted, without having to type out a 'thanks', 'got it', or 'will do'. Equally, when received, it's often a green light to proceed, where a 'like' is enough for someone to know that they can get cracking with the plan or idea that they put forward.
But a love heart? Or an angry face?
I would like to point out here that I am not a GIF-hater, and I do use emojis in conversation. I think there is a time and place where a well-timed GIF or big grin emoji can add useful expression, elevate IM communications, and help to bridge the gap of understanding between two remote communicators, who could be on different sides of the world. Plus, they're just so funny – see Panda.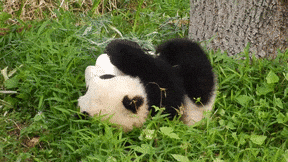 I think the difference here is that this reaction feature is both direct yet ambiguous, offering no option to frame the response with a message, unless you 'emoji react', then actually respond, which seems a little pointless.
So, what are we getting here, if you hover over a message these are following 'reactions' that are now available. If you use the ever-handy 'save this message' button or any of the other options shown below, these have now been moved to the '…' option at the end.
The good old 'like' (a timeless classic, see earlier)
The love heart (a potential HR nightmare, very easy to accidentally press, use very carefully, and consider your contexts)
The smiley face (feels a little benign. I'm struggling to understand the difference between liking something, and smiling at it)
The shocked face (easily misconstrued and not something I would want to receive on 95% of my communications)
The sad face (for commiseration, but if something deserves the sad response, it probably also deserves some words too)
The angry face (Anger at work and emojis should be kept as far away as possible from each other)
Like, Love, Happy, Shocked, Sad and Angry. These emotions are rather rudimentary (and extreme) compared to the spectrum of feelings I have at work and want to express. Where's the sleepy 'I need more caffeine before I can take a look at this', or the puzzled 'what is this?!' face that I would use frequently?
I'm always happy to be wrong, and maybe we'll see these reactions add value to the communications held within Teams. However, I do think that the addition of more emoji into this responsive context opens the platform up to some of the downfalls that social media, and instant messaging services like WhatsApp experience; miscommunication, the potential for offense or misunderstanding, the accidental angry emoji when you were reaching for the smile.
I'm looking forward to seeing how many 'likes' this new addition receives.