Bull's eye view: Ignite Video Diary 2018
The bulls are back
Ignite finished up two weeks ago. Now that the jet lag has fully worn off, and many of us have returned to more 'comfortable' climates, we thought we'd take a look at the week's antics through the eyes of our well-traveled Quadro-bulls.
Destination: Orlando, Florida
Never knowingly underdressed, our bulls took sartorial inspiration from across the Sunshine State for their trip. Kitted up like 'gators, superheroes, beach-lovers, and a certain famous mouse, the bulls were ready to hit the road.
Give us a twirl 'Gator!
True fact: Did you know, South Florida is the only place in the world where both Alligators and Crocodiles reside (in the wild).
Cue a 7-day long onslaught of insults, motion sickness, fear, and disorientation
Now while Ignite is many things: busy, exciting, HUGE, and certainly a tad overwhelming, not many people come back from the event having suffered quite as much as our poor bulls this year. Where our previous 'bull-based' blog saw our little friends living like high rollers in Vegas, we can't say they fared as well in Orlando.
First off, our bulls didn't have the most glamorous entrance into Florida. They turned up in herds, stuffed in plastic wrappers, having been forced to make the journey up close and personal in a cardboard box with 1000+ of their fellow travelers. And you thought your economy flight out there was bad?
Case of mistaken identity
Much to our Team's amusement, throughout the four days in Orlando, our bulls were mistakenly identified as:
Cows (yep, that's only slightly wrong, we can let that slide)
Quitely concerned that you don't know the difference? Here's a handy guide, which will also tell you what a 'steer' and a 'heifer' is – you're welcome. 
Unicorns (seriously? Our bulls have two horns. How?)

Elephants (What? Wait, what?)

Microsoft Ignite attracts 26,000 highly skilled and intelligent technical experts from across the world, in various industries. I feel like that point needs (very) literal underlining. I'm also willing to bet that NONE of said attendees have the job title, or a sideline career as a 'Zoologist', 'Vet', 'Animal Trainer', however, some of you could consider stepping AWAY from the screen and getting out into nature, or at the very least tuning into some National Geographic once in a while. It might save you some embarrassment when you're next on the farm.
Tumbling and 'rough-handling'
Once they were set free from their plastic confines, a particularly unlucky set of 40 bulls were chosen for the 'Tombulla'.
Keep rollin', rollin', rollin'
These poor creatures were loaded into our perspex tombola, and essentially rotated non-stop for four days. Visitors to the stand could pick a numbered bull out of the box, and if it corresponded with the code on the lockbox then they got to pick a prize from the tech box.
Feeling lucky?
Aside from the physical turmoil, the bulls also had to deal with the emotional stress of being the constant bearer of bad news over and over again…
(sound on for this one)
Tired and dizzy – the happy hour was a constant source of relief. Our human-folk also enjoyed a beer or two…
Happy hour is a time to take the intensity down a notch. It's a time to have a relaxed chat, drink in hand, and watch the show wind down for another day.
Nope. Not just yet – we had one last game in store for our poor bulls. A quick game of BASKETBULL, with Tony Sterling our SVP of Customer Success taking the brunt of the team's poor throwing skills.
(sound on for optimal enjoyment)
The after-party
How do you kick back and celebrate after a week of being rolled around in a plastic prison? A celebration at a theme park, of course!
Unlike the human components of the Quadrotech team (who were very excited), our bulls were less than impressed with Microsoft's Thursday night celebration (shutting down both Universal parks for Ignite attendees). It was the final straw in their high-octane, thrill-ride of a trip.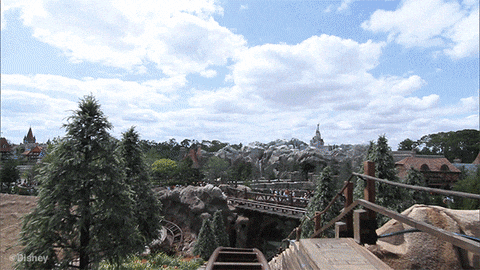 Feeling queasy, bruised, our bulls high-tailed it out of Florida at the first opportunity. Until next time Ignite.